Capability
The Eco Thermo coat is proprietary water based thermal barrier coating for glass.
This product can be applied on glass window from room inside. It formed film is absorbed infra red ray from sunlight and prevent increase of temperature for room.
This effective property is energy-saving effect for electricity expense of air-conditioning equipment.
This product is also able to use several plastics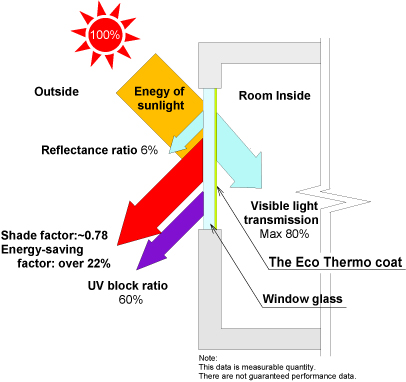 Each products heat shield effect
Products
Name
Spread
(/1 sq m)
Passing rate
Heat shield
capability
Shielding
ratio
(reference)
UV RAY
VISIBLE
RAY
INFRA
RED RAY
DEFFERENCE INFRA RED
SGHC
PRO WATER
25g
41 %
77 %
43 %
34 %
0.62
PRO BASIC
25g
41 %
77 %
42 %
35 %
0.61
PRO UV-BASIC
25g
7 %
73 %
40 %
37 %
0.53
SELF BASIC
25g
45 %
79 %
59 %
18 %
0.76
SELF SHIELD
25g
38 %
71 %
44 %
33 %
0.56
NORMAL GLASS
–
61 %
86 %
77 %
–
0.85
This graph is transmittance spectrum of dispersion by spectral photometer. Reduction of Infra red ray is about 65%. However penetration probability of visible ray is over 70%. It indicates to balance transparency with thermal barrier capability.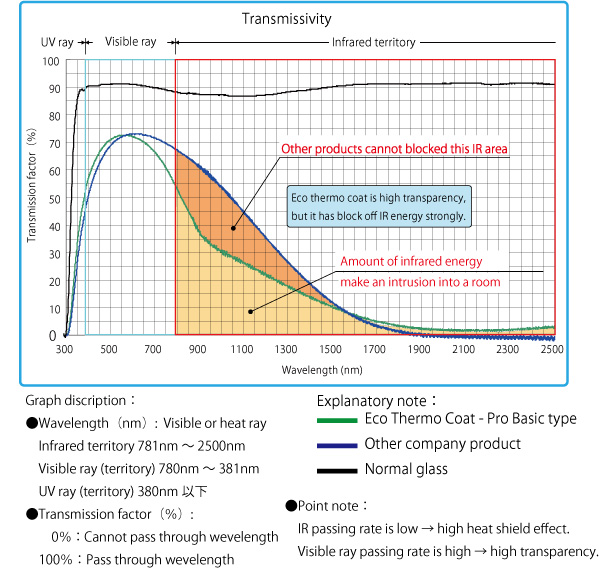 .
This performance data is confirmed to cut through amount of thermal infrared from Coated the Eco Thermo Coat on a glass and non-coat glass.
Result in such difference in temperature 15.9 degC maximum coated glass and non-coat glass.
Feeling temperature is able to get 5.1 degC maximum.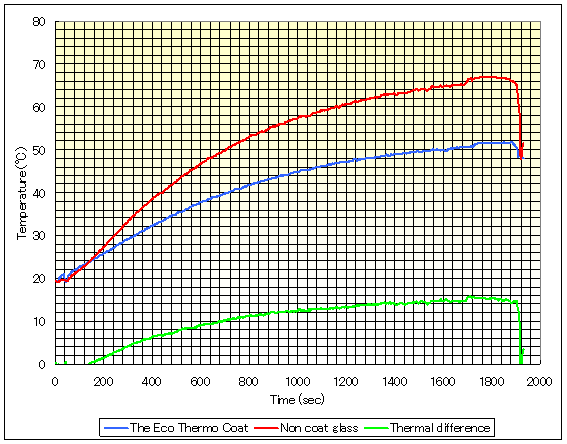 Several thermal barrier coats are usually colorized some green or dark color on coated surface.
The Eco Thermo Coat is more high transparency than other products. This formed film is able to ensure transparency of glass windows.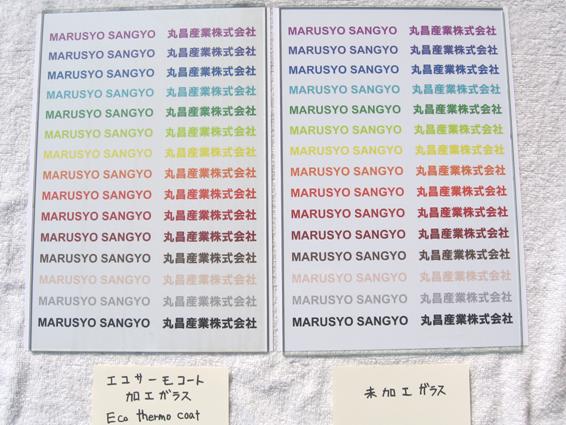 (1)    Date: 20. May. 2009
(2)    External temperature: MAX 31 degC Min 21 degC
(3)    Location: Marusyosangyo laboratory (floor area :26.4sqm)
(4)    Located condition: windows were subjected to direct sunlight.
(5)    Maximum temperature difference : 3.2 degC